Controls Used: Xbox One Controller
Owlboy is a 2D action-adventure game developed and published by D-Pad Studio. Originally released back on November 1, 2016, I got my first real exposure to Owlboy through Humble Bundle's February 2018 monthly bundle release. Without knowing anything about Owlboy, I could see right off the bat that I would at the very least enjoy the visual style. Being a sucker for modern-day releases that looked like they could have been released on the SNES, I felt right at home.
Story
Upon starting Owlboy, it really hits you with the emotion. You play as a mute owl named Otus, and you're just smacked down and berated by your teacher for the first few cut scenes of the game. He's supposedly teaching you to carry the weight of owlhood upon your shoulders, and that means brutal owl tough love.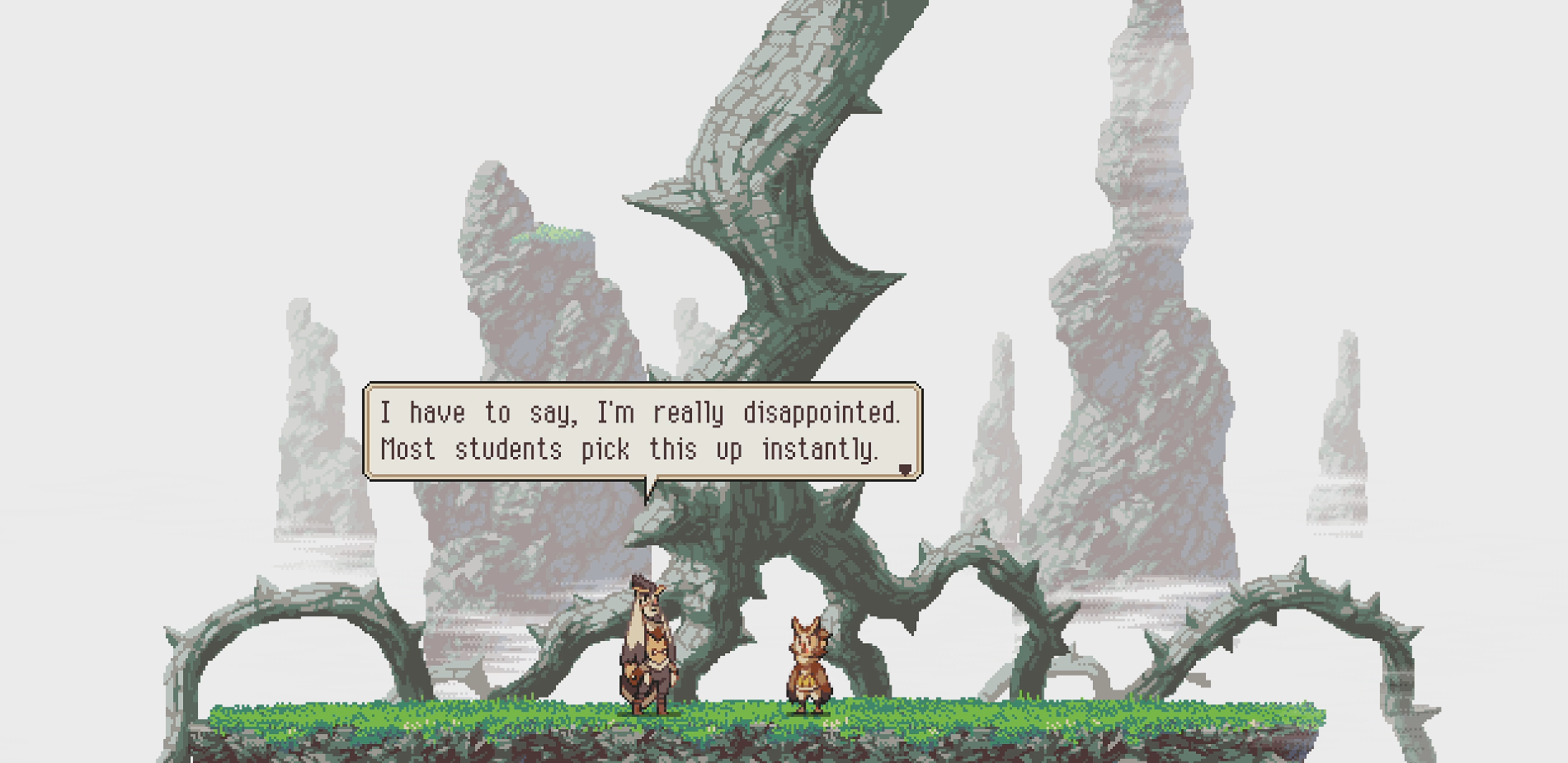 Getting put down early by your teacher for not being perfect right off the bat.
You're asked to fly for the first time and reach a platform above your head. When you fail, your teacher is disappointed and that most owls can complete this task their first shot ever and that it pains your teacher to see such inept flying. The next scene has you grab a bucket of water to give to a neighboring village. You throw the bucket instead of putting it down, causing the bucket to break and the village not able to receive water. Your teacher then tells you that he will let others know of your incompetence. It's really just brutal.
Before getting into the prologue of the game, you walk Otus through a series of conversations with dark beings, giving you this ominous feeling of who you are. At one point it feels like I'm Ness, Paula, Poo and Jeff heading towards Giygas in Earthbound.
When you gain control back, you begin in the village of Vellie and are tasked to explore, talk to villagers and move the narrative along. You learn of the relationship between Owls as protectors and the villagers, as well as the dynamic between Owls and Pirates. After going to explore a ruin beneath Vellie with your friend, Geddy, the village is attacked by Pirates and a unique owl relic is stolen; thus kicking off your adventure.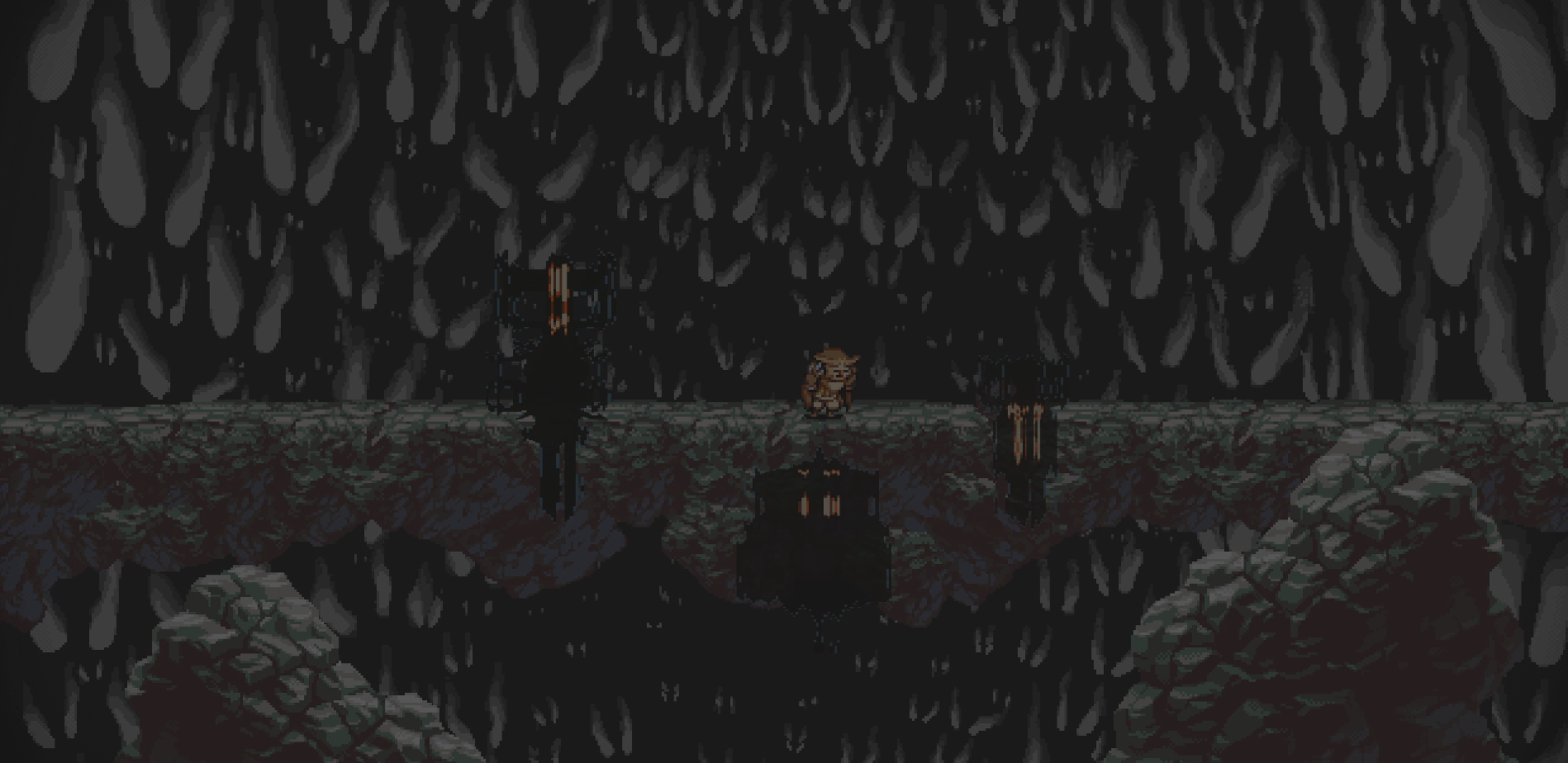 Owlboy definitely takes a shift early in the prologue by giving you this nightmare scene, reminiscent of Earthbound.
Gameplay/Combat
There is a surprising amount of resiliency in Owlboy's gameplay that I wasn't expecting. You essentially get a few different combat modes. As Otus, you have the ability to fly, spin attack and dash. You also have the ability to grab objects and throw them, although this time you won't be yelled at for it. Just with this, movement feels quick with the ability to continuously dash and complete quick spin attacks.
As you progress through the prologue and into the story, you're able to acquire companions that you literally carry around with you. The first, your friend Geddy, has  a quick firing gun that can be used to break objects, some barriers and kill enemies while your second companion has a more powerful shotgun style blast that requires re-charging. You begin to have more options of how to approach situations or battles.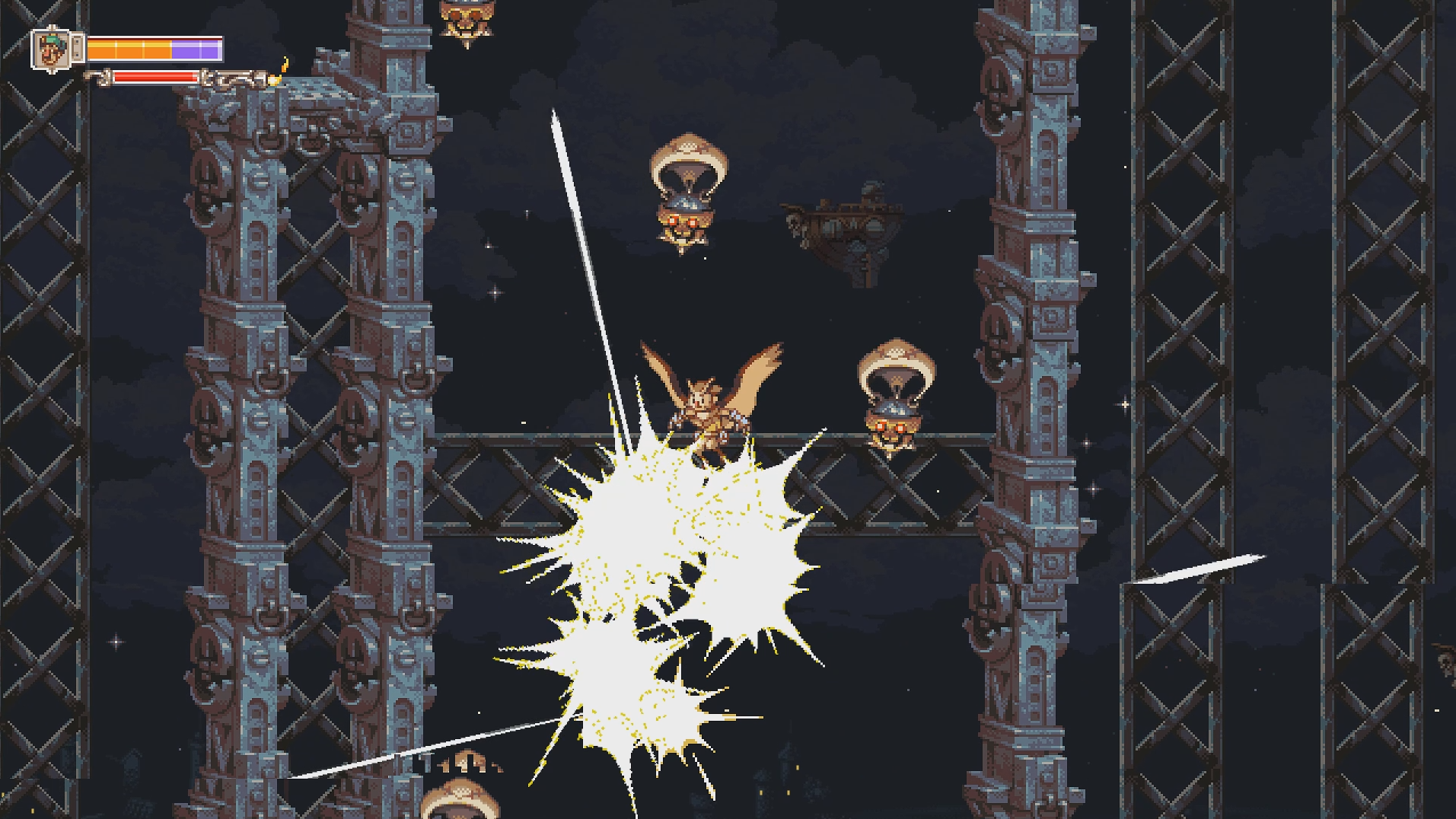 Trying to avoid death by flying through a pattern of bomb-like enemies.
You learn early on that combat can start to get pretty complicated, especially for boss battles. Your first boss fight requires you to attack first as Otus to smack armor off the boss, and then grab Geddy and fire at its body. This type of gameplay continues the further you progress, incrementally making things more and more complicated.
Early on, I felt like hit boxes were hard to adjust to. Otus has a spin attack that seems like it has a weird hit box. Some enemies early on were unforgiving on the timing until you're able to adjust and get used to it. I also noticed that invincibility frames can be unforgiving. There were a few times I was hit by an enemy and causing me to repeatedly cascade into other perils until death.
Other Points
Puzzles: Owlboy also features puzzles scattered throughout that are reminiscent of those old Zelda games and even had a taste of Lufia II: Rise of the Sinistrals from the SNES for me as well. Those I've encountered thus far have been entertaining to play through with some giving you those 'A –Ha!' moments; others can be easy and feel similar to being filler for the current dungeon.
Pacing/Variation: We get various different moments where your flying ability gets shut down; for example when you're traversing waterfalls (which happily felt very much like Donkey Kong Country 3). There's also a boss battle near the beginning of the game that forces you to quickly dash forward, switch through your various companions to break obstacles and then finish off with platforming sections in quick succession while being chased. You also encounter many situations to where combat shouldn't be your first options. There are times that just avoiding detection is the way to move forward. Things can get hectic, but it's a nice break with the usual routine of solve a puzzle, kill enemies, break wall and repeat.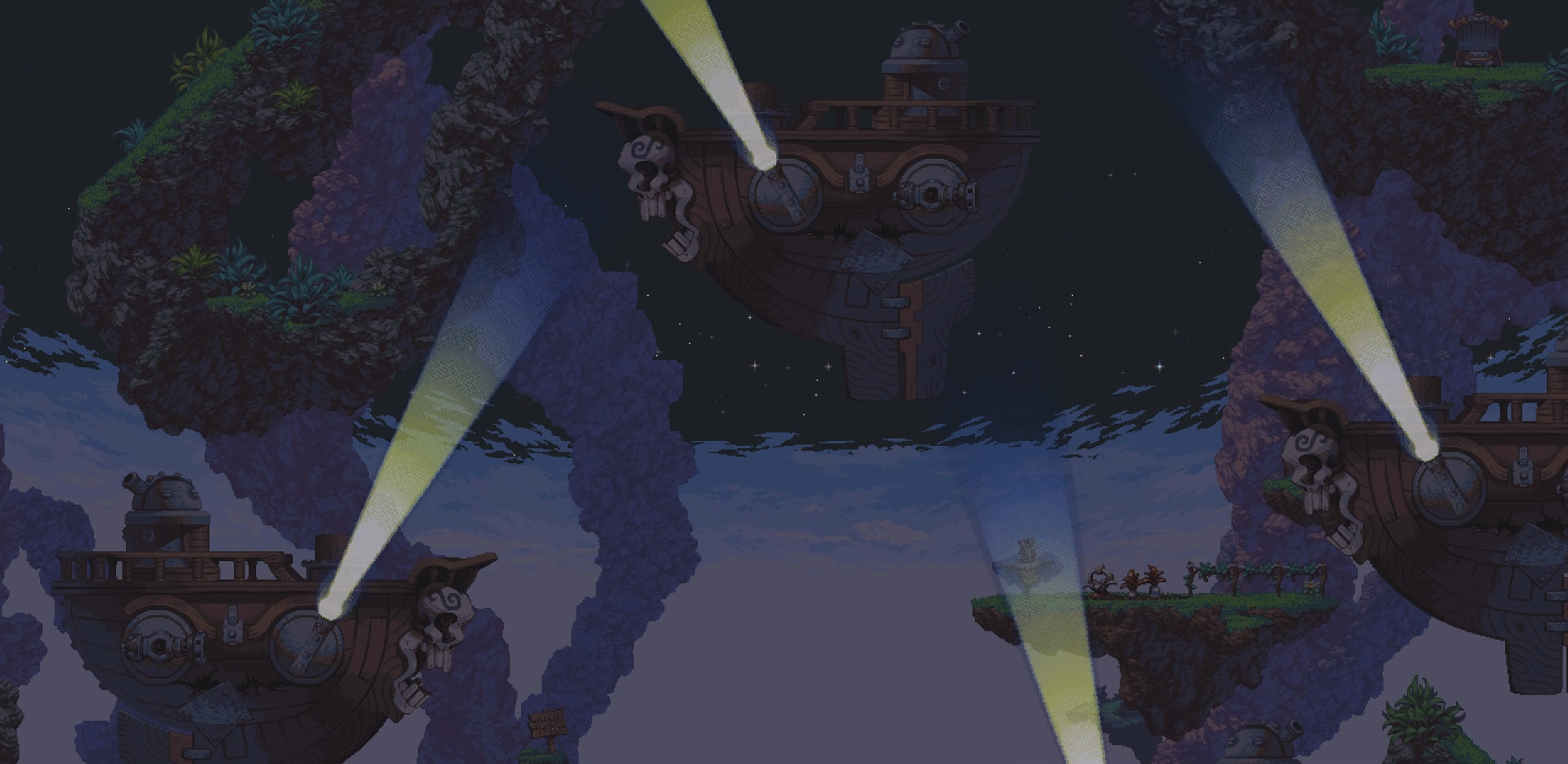 Early on, Vellie is attacked by Pirates and you're tasked with proceeding without being detected.
Music: The score and sound effects in Owlboy are very well done. With the score in particular, it's never this bombastic force that jumps into the forefront of what's going on, but you always notice it and it's always supplementing the story at the time. Whether its moments of joy, tension or adventure, you will get those feelings from the score.
Final Thoughts
If you're looking for an SNES inspired action-adventure, Owlboy will be an enjoyable experience for you. I genuinely like all the characters, there are good emotional beats throughout the story and there is a variety of different things you encounter in the gameplay that keeps things interesting. There are times that the combat can feel clunky and puzzles can feel like filler at times, but those factors didn't come close to ruining any sort of experience I had.
You can check out Owlboy's official site here.
You can check out more from me at I Wasn't Prepared For This.