Mere months after making fun of the hardcore Nintendo fans for thinking the Nintendo: Labo announcement was going to be a Super Smash Bros. Switch reveal, we've arrived. Nintendo formally announced Super Smash Bros. for the Nintendo Switch today during their Nintendo Direct, for release in 2018.
After their usual flurry of game announcements, it seemed like we had reached the end with an announcement on a Splatoon 2 DLC expansion called 'Octo Expansion'. Seemingly over, we are teased with one last video. Unfortunately (for me anyway), Splatoon takes front and center once again as we see a one vs. one battle take form.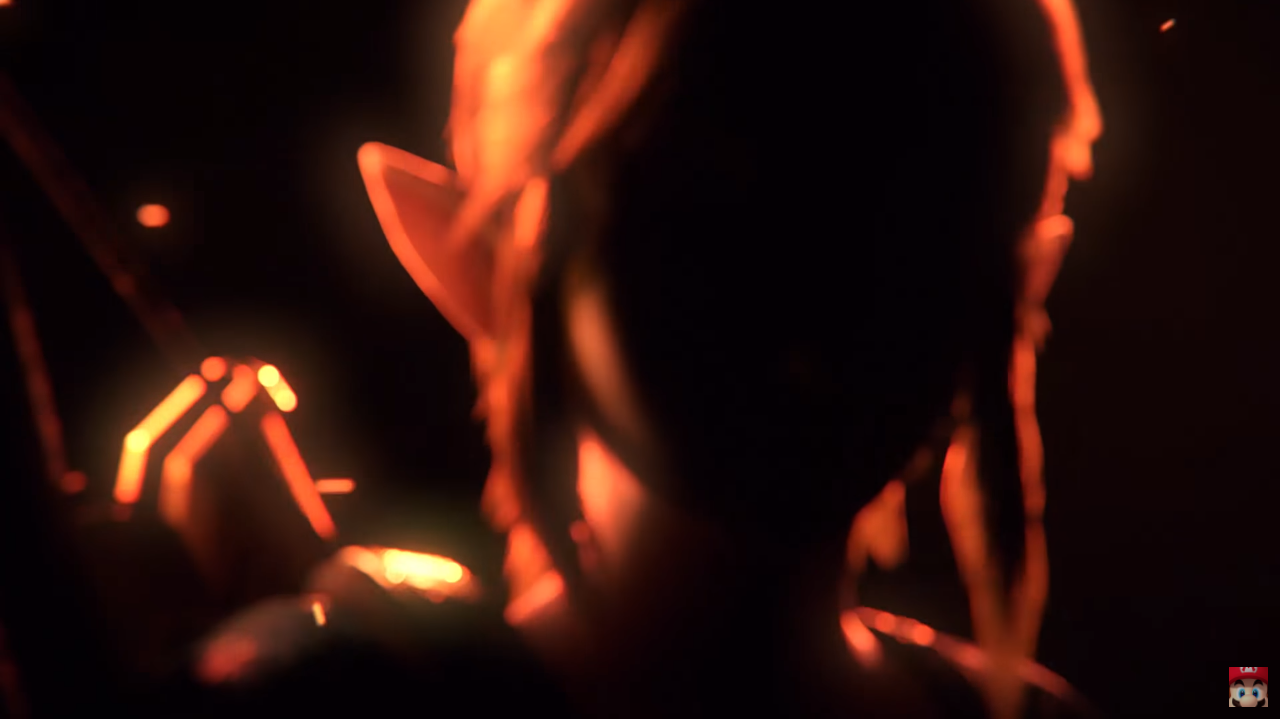 Link making his return to the fray.
The light dims, for what I assumed was the Diablo III announcement that was rumored, and we are greeted fantastically with a flaming Super Smash Bros. logo and visible silhouettes of our favorite gaming heroes front and center. Super corny, but I'll take it, especially because it's coming out this year.
The Super Smash Bros. announcement solves the problem I believe Nintendo had with what to release in 2018. Their top two franchises got critically acclaimed releases in The Legend of Zelda: Breath of the Wild and Super Mario Odyssey in 2017. What would help them continue momentum in 2018? The console Pokemon game is still dark on details and believed to be a 2019 release. Kirby and Yoshi may have niche appeal, but they aren't systems sellers. Super Smash Bros. is exactly that.
With Super Smash Bros. being the bombshell dropped for this Nintendo Direct, there were some other notable announcements made that deserve mention. The first, being Mario Tennis Aces. My first experience with Mario Tennis was actually on the Virtual Boy. I had a lot of fun with it back in the day along with Teleroboxer and Warioland, but that's a different discussion.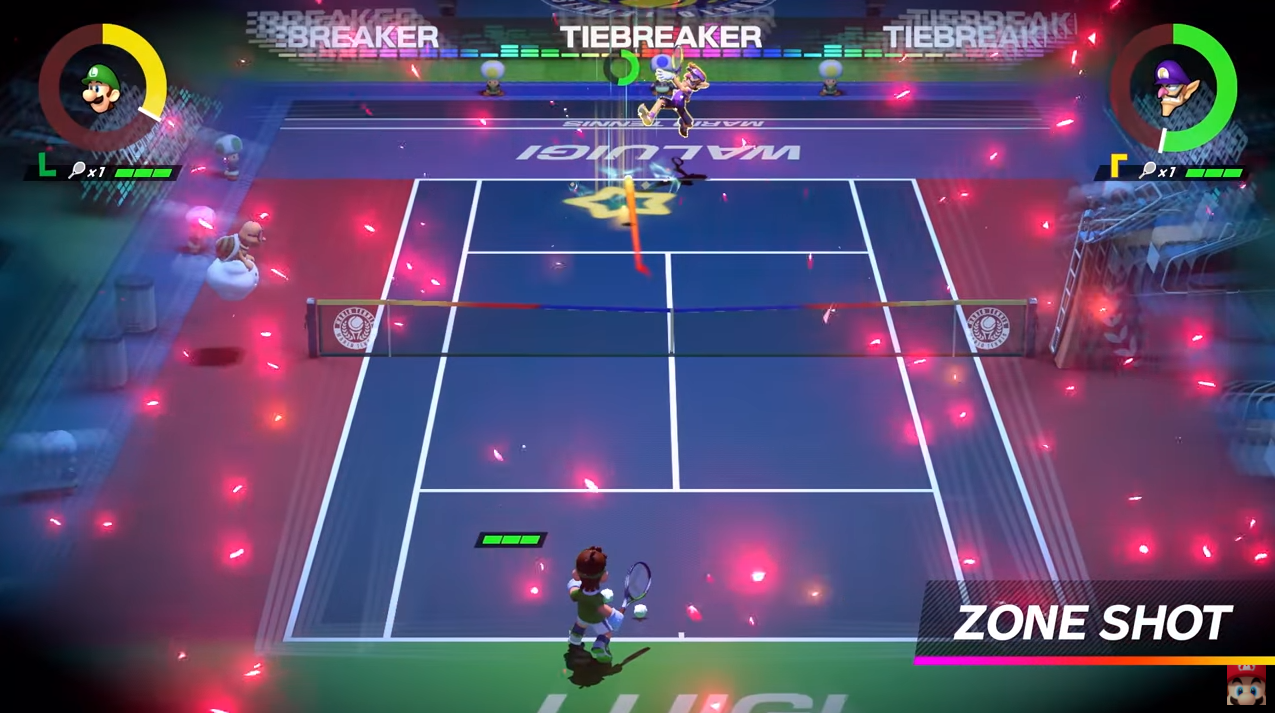 Mario Tennis Aces zone shot in action.
In this direct, Nintendo runs through many of the shots you're able to make as you play. You'll get your basic, topspin, lob and slice shots, but what seems interesting, is the introduction of zone shots and special shots. Zone shots require you to be in a specific area of the court. When you hit the ball from these zones, time stops and you can select where you want the ball to land on your opponents side of the court. Special shots require energy to be built up, to avoid spamming, and has a greater deal of power behind them, even having the chance to break your opponents racket if they don't properly volley the ball back.
I'm also very interested in story mode for Mario Tennis Aces, mostly because I want to experience a story mode in a tennis game. The flashes they show seem different than what you would expect, such as a boss fight against Petey Piranha.
Octopath Traveler is a game I've had my eye on for a little while now. It's a modern, pixelated-style side scroller RPG with an interesting lighting engine made by Square-Enix for the Nintendo Switch.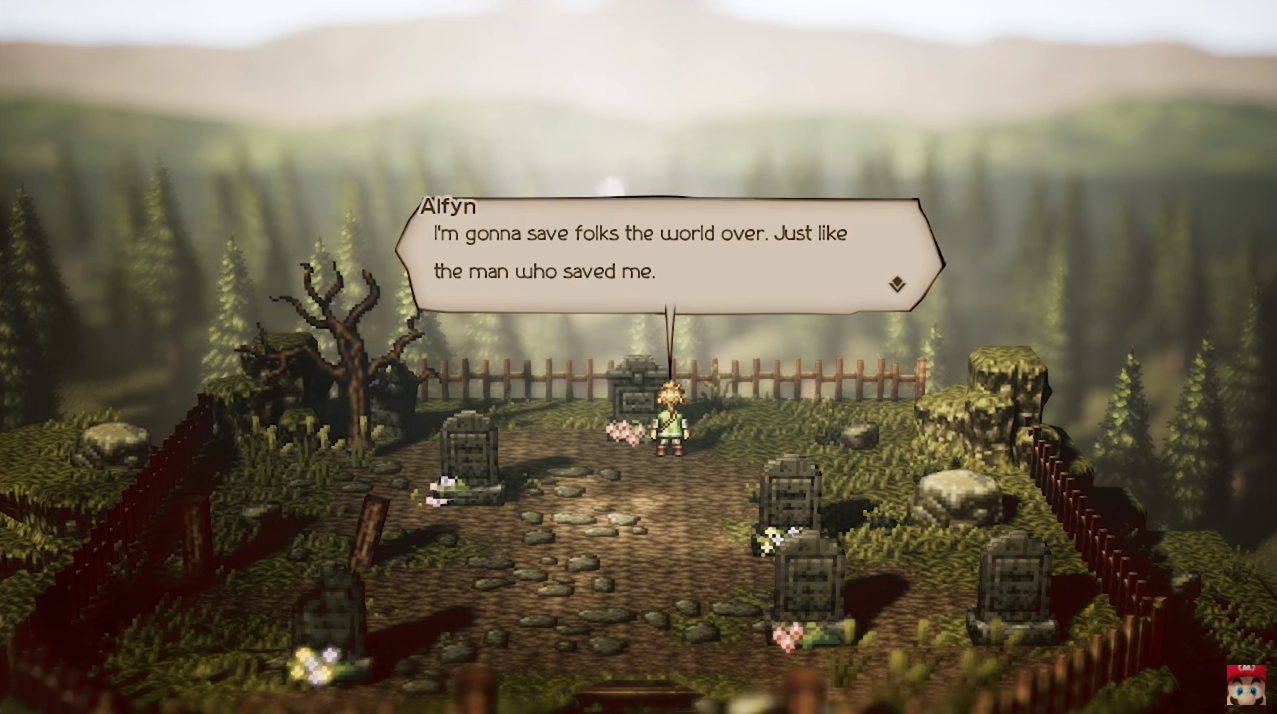 Octopath Traveler's unique style and graphics on display.
Revealed today are two more playable characters; Tressa the Merchant and Alfyn the Apothecary. Tressa allows you to speak with villages and townsfolk to purchase items and Alfyn lets you converse in new ways with those townsfolk to unlock special perks. The example shown today includes Inn prices being cheaper. The job system was formally announced and shown off as well. Each character has a main job, such as Tressa being a merchant, but she can take on other roles in battle to acquire those skills and abilities.
Along with the details above, we are finally given the release date of July 13th, 2018. I'm usually not one for special editions, but the Octopath Traveler Special Edition comes with a pretty cool looking pop up book that they showcase in the Direct.
Lastly, I'm just pumped to get a Solaire of Astora Amiibo. Praise the Sun!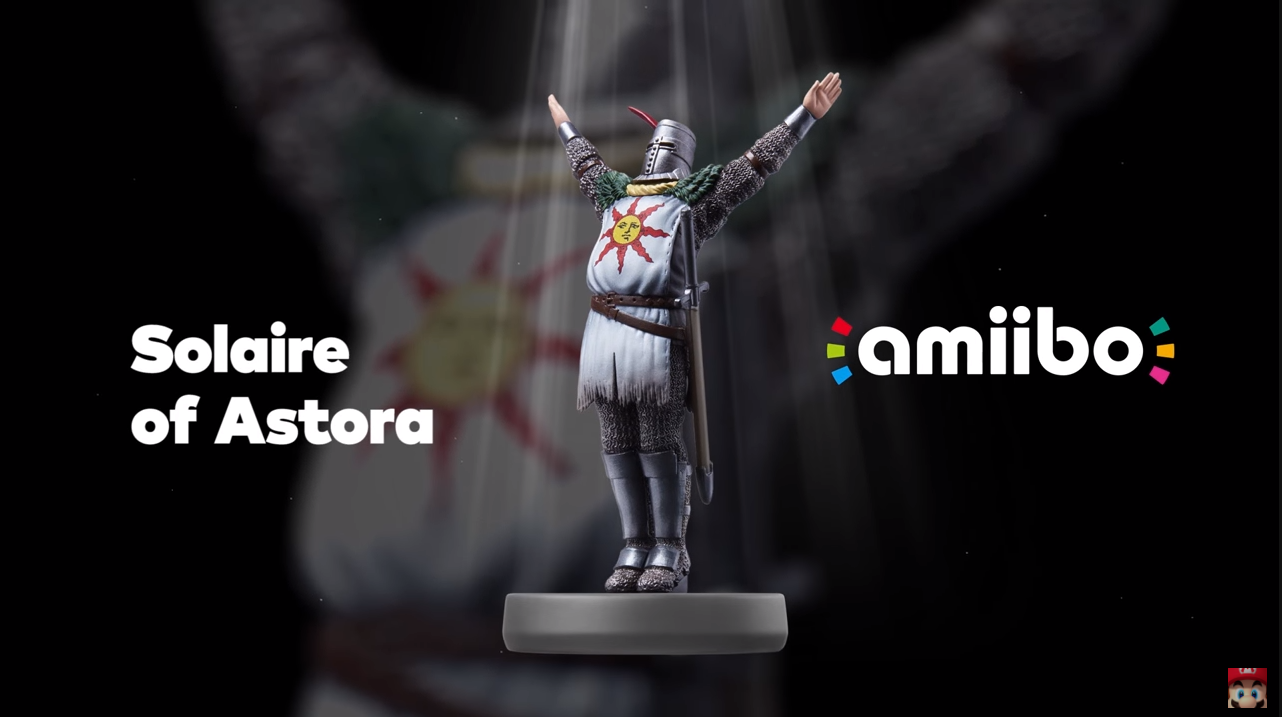 Many more announcements were made including a Luigi's Mansion re-release, Okami HD, Crash Bandicoot making his first appearance on a Nintendo console, Warioware, Detective Pikachu and more.
Here's a full list of game's mentioned in today's Nintendo Direct:
WarioWare Gold
Dillon's Dead-Heat Breakers
Mario & Luigi: Bowser's Inside Story + Bowser Jr.'s Journey
Detective Pikachu
Luigi's Mansion Re-Release
Kirby Star Allies
Okami HD
Sushi Striker: The Way of Sushido
Octopath Traveler
Travis Strikes Again: No More Heroes
Dark Souls Remastered
Mario Tennis Aces
Captain Toad: Treasure Tracker
Undertale
Crash Bandicoot N. Sane Trilogy
Little Nightmares: Complete Edition
South Park: The Fractured But Whole
Hyrule Warriors: Definitive Edition
Splatoon 2: Octo Expansion DLC
Super Smash Bros.
Check out the Nintendo Direct here for the full video and game details.
Check out more from myself at I Wasn't Prepared For This.